Class 3
admin on: Class 3
Good afternoon everyone!
Well, what a wonderful first half term we have all had in class 3! What a fabulous team you all are! Mrs Scott, Mrs Pearce and myself love every minute working with you all!
Have a fabulous, very well earned rest this holiday and we will very much look forwards to welcoming you all back on the 2nd November.
I think you have all worked hard enough so I haven't set you a task on Teams this week. There are some 'Mathletics' tasks for you to try to consolidate your learning on calculations and here are our spellings. I was delighted with how well you learnt the spellings this week; keep it up! The spellings are on 'Spelling Shed' and I have requested games on there for you as these seem very popular!! Thank you Mums and Dads for all your amazing support; it was so lovely to meet you all virtually at the beginning of the week!
Spellings;
only
pretty
any
many
money
people
clothes
half
We now have our very own balloon for class 3 that will be taking part in the virtual race from 31st October. Here's a poster reminding you of the event.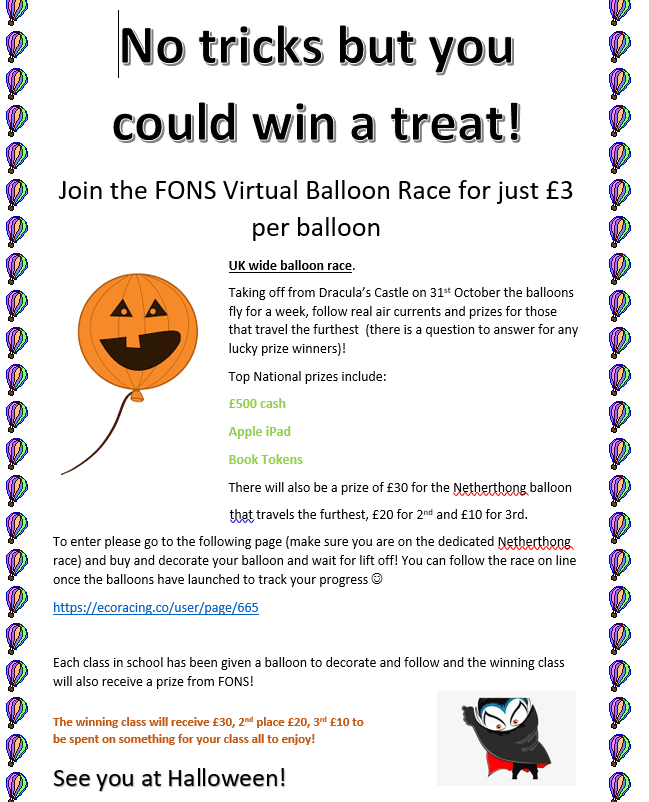 Have a super week off and see you all very soon!
Love from,
Mrs Matthews x
---