Safeguarding
Designated Safeguarding Lead: Miss Rooney Kelly
Deputy Safeguarding Lead: Mrs Alyson Lindley
Designated Governor: Mrs Chris Wood
Have you downloaded our app 'Safer Schools'?

Available on App and Play Store.
Please ask at the office for the PIN Code for Netherthong
It is everybody's responsibility to make sure children and young people feel safe and cared for. It is important that you know who to speak to if you are concerned about ANY child in or out of school. Passing on information could help to safeguard young people and should not be seen as interfering.
Our safeguarding officer at Netherthong is the Head Teacher - Miss Rooney Kelly. You can speak to her in confidence about any issues regarding the safety and well-being of children. In her absence the Deputy Safeguarding Leads are Mrs Emma Barker and Mrs Alyson Lindey.
For more urgent matters please see Kirklees Safeguarding Partnership or the police on 999.
Please see our Safeguarding and related policies in the Policies section of the website. Below are some key documents.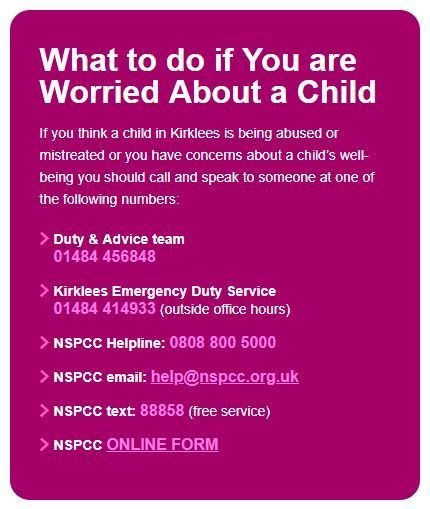 For more urget matters, please contact Kirklees Safeguarding Board or contact the police on 999.
Parenting can often be a hard job and sometimes you may need a little help. Below are some useful links about other local and national agencies that can help.