Reading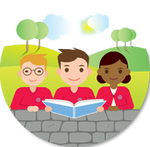 "The more that you read, the more things you will know. The more that you learn, the more places you'll go." Dr. Seuss
Reading is fundamental to education. Proficiency in reading, writing and spoken language is vital for pupils' success.
Netherthong Primary is a reading school and we aim to make all of our pupils confident, fluent readers, creating a reading culture where children are curious to explore and share books. We want our pupils to achieve the skills required, a positive attitude and confidence as well as interest and a life-long love of literature and vocabulary. We believe that fluency of reading is a key indicator for future success in further education, higher education and employment and can lessen or even eliminate the impact of early life disadvantage. We believe in phonics from the first day your child attends school and we believe that every teacher should be an expert in early reading and phonics, to support your child along their reading journey, regardless of the year group they teach in. We actively encourage a reading culture that ensures that the variety of reading experiences every child at Netherthong receives is rich and engaging and our philosophy recognises the importance of talk, of vocabulary, of accurate assessment, and of building a love of stories and reading: that's why over three quarters of our children say that they love or really like reading at our school.
2021 Reading Framework Teaching the Foundations of Literacy July 2021. DfE
Reading is a key tool for life. Teaching children to become excellent readers is fundamental to what we do at Netherthong Primary School. We do this through prioritising reading: phonics starts on day one and continues until children have completed the scheme and are fluent readers. We recognise the importance of the right phonics programme to ensure progress: we use the well-respected Read Write Inc systematic synthetic phonics programme from Reception and all staff are trained in this with regular cpd, as we believe all staff should be early reading experts regardless of the year group they teach in. We choose RWI because we believe that the approach creates fluent readers, confident speakers and willing writers: it integrates phonics with comprehension, writing, grammar, spelling and handwriting.
We instil a love of reading in our children through exposing them to a range of genres, including poetry, in Guided Reading lessons and in English lessons and across the broad and balanced curriculum. Robust comprehension teaching and practice, using a variety of tools, including the English Skills Box, ensures that children can read fluently, but also unpick what they have read and make inferences and understand authorial intention. In Reception and at Key Stage 1, our children take home two books every week: one is a book they can fully decode, as they practise their reading fluency and the other is a book that parents can read with them for pleasure, exposing them to new words and vocabulary and different genres. The decodable book that our younger children or that struggling readers take home, is carefully matched to the sounds they have learned in class ensuring that every child has success with their early reading and feels confident and empowered. Our extensive library also supports every child to select a book weekly that they can read for pleasure during the week and our library experts and well trained, reading loving staff, take care to guide the children's choices carefully. Every child has a reading record or reading planner. Classes enjoy story time at least once every day and all reading sessions are language rich with the back and forth interactions that form part of excellent reading practice. School implements its reading calendar across the academic year to ensure children are exposed to a wide variety of reading initiatives and a culture of readers is created through prizes, competition and community links.
At Netherthong Primary School, we believe in keep up, and/or catching up quickly, and we use a number of tools to ensure that children do not fall behind. These include RWI Fresh Start in Years 5 and 6, 'Keep Up' phonics in Years 3 and 4, extra reading support at 8.30 for those children that may need it from time to time, daily phonics in Reception and Key Stage One and one to one phonics where necessary, Nessy, small group extra reading and weekly Reading Friends' sessions. Our Nurture Lead also uses books and book talk to support children accessing nurture sessions to support their emotional well-being.
The wide range of learning difficulties experienced by children with identified special educational needs and disabilities (SEND) can have a significant impact on children's and young people's access to the curriculum. Teachers at Netherthong are ambitious about teaching all children to read and write. Children with SEND have to navigate the same written language, unlock the same alphabetic code, learn the same skills, and learn and remember the same body of knowledge as their peers. It is a critical skill in helping them prepare for adulthood. School makes all reasonable adjustments to enable pupils with disabilities to have full access to the curriculum and to be able to participate in it. Consensus is growing among academics and teachers that the best reading instruction for children with SEND is SSP, taught by direct instruction and we provide this through our RWI programme. This is either done in line with class teaching, or on a small group/individual basis appropriate to the child's level and aims to give children the best opportunity to gain functional literacy.
Children who read for pleasure perform better in school (Children and Young People's reading in 2017/8 National Literacy Trust) and our record of strong achievement in reading at all key stages reflects the environment we create where reading is valued, promoted and actively encouraged. This means that when your child leaves us to begin their High School journey, they have been introduced to new perspectives, new ideas and can make connections across the curriculum, linked to their reading. Over 75% of our children like reading a lot, or even better, say they love reading. At Netherthong Primary School, children can talk confidently about their reading journey and progress, and we support the to make good or better progress through regular formative assessment to close any gaps, through listening to them read regularly and supporting their decoding and fluency with our early reading expertise and through termly summative testing NFER to diagnose any gaps. Children at Netherthong are nurtured, challenged to make progress and the most of all opportunities they are given and supported to flourish to achieve their best: we achieve this through the impact of placing Reading at the heart of everything we do.